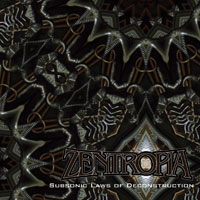 Subsonic Laws of Deconstruction Reviews
Review Barikada - World of Music - 3/1/06 from Serbia &Montenegro
Rating: 3 stars
San Francisco akt Zentropia cine dvoje ljudi: Mark Bray - gutara, bas, klavijature i bubnjevi, i Darcy Rowley - bas i udaraljke. Do sada su, od 1997. godine, objavili veliki broj izdanja i to sledecim redom: "Beyond Of Temporary Zone Of..." (1997), "Zentropia 2" (1999), "1857" (1999), "Dezirotom" (1999), "Synapse" (2001), "Zero Mass Celebration" (2002), "Ritual Space Composite" (2003), "Fables Of Celestial Night" (2003), "Deep Space Dub Mix Volume 1" (2004) i aktuelan album iz prosle, 2005. godine, "Subsonic Laws Of Deconstruction".
Zentropia sound predstavlja eksperiment u pravom znacenju te reci. San Francisko duo kombinuje industrial sound sa pocetka 70-tih godina sa psychodelic / space elementima i dub nasledjem kroz kojeg se provejava prica od 70-tih godina pa do sadasnjeg trenutka. Na neki nacin, "Subsonic Laws Of Deconstruction" predstavlja mracnu i tamnu stranu dub psihologije cija pozadina se moze tretirati i kao soundrtrack za neki horror film. Ipak, sama produkcija i studijsko snalazenje aktera je za svaku pohvalu i moze se reci da su u kreativnom smislu pokazali umesnost i lucidnost. Cinjenica je da sam materijal, trajanja nesto kraceg od 74 minuta, zasluzuje veliku analiticku paznju, ali da pri svakom novom preslusavanju cete biti u prilici da otkrijete neke nove momente i zvuke.
Rating 8.5 out of 10 - Bane Lokner
Here is a rough translation:
- ... Zentropia sound are consists of several serious experimental elements. San Francisco duo combine industrial sound comes out from the early 70's with psychodelic/space details, covering dub approach from the early periods till the nowadays standards. In some realistic aspects, "Subsonic Laws Of Deconstruction" reflects dark side of dub psychology, and also we could threat their actuelle materials as a imaginary soundtrack of horror movie. But a productional work, and complete technical includings deserves only respect and complete recomandations. Their album are consists of materials lasted little less than 74 minutes, and deserve specific attention, and every time when you turn their CD's in a player, you will probably hear a new moments and sounds...
Rating 8.5 out of 10 - Bane Lokner
Review from KZSU 90.1 Zookeeper Online - Dub Space - Blue G 2/24/06
Deep dark X-Trip-Dub. Dubbed to Death with little
of Jamaica. The cover and title are perfect
reflections of this dark sci-fi exploration.
First full release though the local group has
been together for a decade. The bass provides
what little melodic content there is. 1-4,5-9,11-12
are continuous, so fade out as needed. Perfect for
The Dub Space show.
1)* distorto stepping bass grooves with dystopian
soundscape, space-time distortion 3m
2) interlude 1m
3)* snappy dub groove - giant slaves labour in
subterranean space port 9m
4)** slow beat takes you... to Hell!! 2m
5)* tribal groove foreces toe tapping - no fx 3m
6) clouds for 2m, then dub grooves in, dissolves
into atmospheres, intense dreaming 9m
7) dub grooves over jungle, distant Hawaiians 4m
8)* head nodding voyage to the heart of the sun
fatal bass 5m
9) space faring tribe spins backward thru time 4m
10) busy synth bass approaches tekno simplicity 3m
11) slow, broad 5m
12)* quick drum polyrhythm 1.7m
15) spacy beatless athmosphere drone 2m
16) driving drum/bass
17) ripping to shreds, almost tekno, no bass 10.5m
19)* gentle thick atmosphere 1m

- Blue G
Review from From Aural Innovations #32 9/2005
What kind of music do you think you will experience with Zentropa??? Well, experimental electronic spaced out music of course. The duo of Mark Bray and Darcy Rowley have unleashed quite a monster of a CD. This is for the deep space adventurers. They make very cool use of the mixer as sounds and guitars are flying all over the place. While some of the stuff is pretty slow going, there is an underlying intensity in their sound that is very unique. If you have a subwoofer on your stereo, be quite careful as the bottom end can be quite lethal! This is the duo's fourth release and if you go to their web site you can see they are into a lot of different cool events in the music world, including live webcasting. Excellent stuff. Old school industrial music meets dub in space. - Scott Heller
Review on Puffcast Show 18 9/21/05
Gooey, melting, space rock dub with an experimental edge, Zentropia will bend your mind, weave a web of hazy psychedelic sonic sculpture, and rearrange your DNA. - Dr. Puff
Review from DubFlash! 9/8/05
Zentropia - Subsonic Laws of Deconstruction
Rating:





Result: The power of the dark side.

Zentropia means dark side of dub. "Subsonic Laws Of Deconstruction" is their latest album and it's more than dark. It is what I call "advanced darkness". The cover of the CD already proves that but it's nothing against the content. It's the death metal side of dub. Industrial. Apocalyptic scenery on a deserted planet, fireballs flying around, hardly any lifeform left. Chaos. Anarchy. What music would be there? Answer: Zentropia.

Zentropia doesn't really play music although this new releases contains more stepping riddims than before but it's still more a sound adventure. Atmospheric, ambient, yes, even visual. This is no music for just listening to. It's music (or: not music) to experience. Pictures come to your mind. Not friendly ones. I see big empty factory halls, I see the end time war scene of "Star Wars Episode II" with all it's strange machinery. I see worms heading for people's heads in order to suck off their brains. But don't worry about me. All the pictures come with a smile.

And I don't think I am that wrong when I read titles like "Snakes Guard Our Secrets" (nice beats in here by the way). That's what I just meant. Just that I wrote worms instead of snakes. ;-) I don't know, for me the whole thing makes sense. First there are these snakes, then comes the "Thunder Demon" and after words you have to run away ("Stepping On") until you are "Falling Through The Layers Of Clouds To The Pillow Of Sleep".

You still follow me? Not bad. I don't. But that's part of this album. As Zentropia claims themselves: This is "a must for serious sonic drifters or for anyone interested in losing track of their own existence." Yes, that's true. And I add: It's the only possible way of getting into this music. You can't just listen to it, but I think I already wrote that.

The album is 73:50 minutes long. If you're strong enough to listen to it in one row, then I call you a brave "Knight Of The Celestial Night". OK, that's an insider greeting here and doesn't really make sense. ;-) Like everything here. It's all one and one is all. Which means nothing. We all don't exist and fire reigns.

And now, finally, I have the word that I was searching for while I was writing this review: fallout. Atmospheric fallout. I think that's a good explanation. That reminds me, there was a cool computer role playing game called "Fallout". I have it somewhere. It's time to play...

- Dub Rogue



Review from Chain D.L.K. 9/6/05
Zentropia - Subsonic Laws of Deconstruction
rated:





Subsonic Laws of Destruction, Zentropia's 8th release since 1997, is the stuff dreams are made of. My first exposure to Zentropia was through the caption in their promo sheet, reading: "Do not operate heavy machinery while under the influence of Zentropia." Sound advice. This release is the aural personification of a drug-induced haze.
Subsonic Laws of Deconstruction is comprised of dubbed out beats and indy guitar experimentations that float in and out of the speakers while dreamy ambient soundscapes dominate, weaving and growing, imparting vivid picturesque scenes of almost apocalyptic proportion. That sentence might be a mouthful but it, in itself, barely does this release justice. It's almost impossible to describe the lush atmospheres created by Zentropia, in fact, without using a run-on sentence.
Grammar aside, this release is mind-numbingly powerful meditation music. Regardless your motives or outlet for quiet-time, Subsonic Laws of Deconstruction can do nothing but add to the peace and calm of the moment. Pick this album up, pop it in your CD player, turn down the lights, and let Zentropia's Subsonic Laws of Deconstruction carry you away—I dare say you won't be sorry.

Review by: Shaun Phelps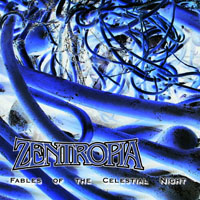 Fables of the Celestial Night Reviews
Review from earpollution 11/24/03
Zentropia - Fables of the Celestial Night
A follow-up to their room-shaking Zero Mass Calibration, Fables of the Celestial Night finds Zentropia exploring more subtle space. The duo of Darcy Rowley and Mark Bray are still beaming deep space music into your brain, but they've crafted a more intricate and nuanced transmission with this outing.
After the brief machine noise intro of "Keykeon," they shoot deep into "Kali Mist," and it is a rocket shot into unexplored space. Pushed onward by the rhythmic throb of Rowley's bass, Bray's guitar shears across multiple dimensions as it turns itself inside out. A duplicate of Rowley spawned by the echoes of the bass (yeah, I know it's all about overdubs, but it's the way your mind expands, man, when you hear this song) drifts in the slipstream of our passage, working the percussion and the reverb switch. In fact, it's not really clear how many times the duo replicate themselves in order to fabricate their convoluted and spacious breath of space dub. As the echoes of "Kali Mist" become echoes themselves in the aftermath of "Eos Blushing," you start to lose track of your own existence in the cosmic wonderment of Zentropia.
The movement of time and space becomes liquid while under Zentropia's spell. The aptly named "Hypnogogic" squishes the entire timeline of creation into nine minutes, compressing the expansion and cooling of space gases into more solid states. "Tiphecreth" contains the barest breath of percussive rhythms which dapple the solid masses of slow moving thunder and charged particle wind storms. As for "Dream Destroyer," the closest thing to a landmark that I can give you is to imagine a radio telescope picking up a transmission of early Scorn, mid-period Laswell when he was slumbering and low-end funky, and Robert Fripp pretending to be a quasar.
As Zentropia winds into their 12-minute closer, "Samsara," all of these elements come together in a heavy, whirling mass like the center of a new galaxy. This is what creation must sound like: the deep rumble of the passage of dense stars, the whirling breath of the solar winds, the pop and crackle of new stars sizzling, and the seismic movement of gases to liquids to solids. Zentropia's Fables of the Celestial Night is the soundtrack to the first billion years following the Big Bang. Massive.
-Mark Teppo
Review from Chain D.L.K 11/29/03
Zentropia - Fables of the Celestial Night
San Fran based duo Zentropia 's sixth release (two EPs and four full lenght albums) "Fables of the Celestial Night" is an instrumental mayhem of illbient-dub-noise with a thick skin and a psychedelic approach. Everything is loose and the atmospheres are expanded, dreamy, nightmarish, relaxing, epic, grand, ancient, gorgeous, chaos-friendly, rapturing and intense. All these adjectives apply because of the very nature of their compositions and the way employed sounds interact with each other in the given space. Timeless soundscapes with low rumbling drones, deep bass lines, distant distortions, huge delays, delayed percussions, disquieting noises, layered pads.
Rarely they get side-tracked from the wide and dark open black holes their music makes you think of by a more (but not too much) standardized approach to dub with organ hits, minimal drumming etc. If it wasn't for those the album can be located somewhere between the powerful cold machine-generation sounds and the warm floating airy sonics.
If we must recurr to names you'll have to deal with plenty and distinctively different ones (just to mention a few): bands such as Zoar, Vidna Obmana, Scorn, Bill Laswell, Terminal Sound System, Rhythm and Sound, Shakatura, Larvae, Koji Asano, Saafi Brothers, Freeform, Dream Into Dust, Show of Exxageration, Anaphylaxis, Hollydrift, Kava Project, The Devouring Element; and labels such as On-U Sound, Asphodel Cold Meat Industry, Nonplace, Different Drummer, Select Cuts/Echo Beach, Ant Zen, Musica Maxima Magnetica and there could be sooooooo many many many more... By the way, my hat goes off to one of the sweetest and most original CD jewel cases I have ever seen in my life: something like a UFO-looking circular outer-space-type peace-sign-like plastic case that rolls open like a full moon who quickly becomes a half moon... Amazing.
- Marc 'the MEMORY Man' Urselli-Schaerer
Review from Aiding & Abetting 11/10/03
Zentropia - Fables of the Celestial Night
I have a friend who once threatened to kill the next music reviewer who used the word "soundscape." and Zentropia doesn't create soundscapes in the traditional sense. What it does is create an alternate musical universe, once which allows it to more fully express its own thoughts on reality.
How cool is that?
Oh, I'm sure this sounds like fancy-schmancy talk from the poncy reviewer, but the truth is that a lot of ambient/dub/electronic acts simply try to make things as weird as possible and pass that off as art. Well, it is, and I happen to like that kinda stuff, but Zentropia does one better. In creating its own electronic realm, it also creates its own laws of physics. And so, sounds that would make no sense when combined in our world are perfectly simpatico in theirs.
Did I just repeat myself? Probably. Fuckit. These boys have some serious talent. They're not only ace producers (as they should be), but they've created quite the living document here. It's easy to get sucked in.
Alright, if yer gonna do the whole soundscape thing you oughta go whole hog. Most bands don't. Zentropia did. And that makes this album something truly special.
Review from Splendid Magazine 1/23/04
Zentropia - Fables of the Celestial Night
You might just be a little bit sick in the head if you like Fables of the Celestial Night -- not the death metal riff-fest for which its name was surely meant, but a far more experimental mass of sludgy sound that consistently hits the low end of the sonic spectrum. Basically, this album is everything the words "slow" and "dark" mean when used to describe music, minus everything approachable left in slow and dark music as we know it. Things like vocals, guitars, notes and recognizable musical structure are all stripped away from Zentropia's raw, oozing sound, leaving a primal mess best described as what early industrial freaks like Throbbing Gristle and Einstürzende Neubaten might have come up with if they'd met dubber King Tubby and collaborated.
All of this means that, yes, Fables... is a difficult listen -- but it's certainly not an impossible one, thanks to the band's inclusion of a thudding, Faust-like beat at the heart of most of their deep-space explorations. Of these, "KEDIA" is the most immediately accessible and the most indebted to dub as we know it, complete with severely fucked up but still identifiable reggae guitar accompaniment and the two-minute length befitting a single (although a single it certainly isn't). "Kali Mist" is longer but just as accessible, laying down a druggy, crumbling drum track -- the most audible and head-bobbing one on the album -- with lackadaisically blown wind pipes and various clicks and burbles on top, all routed in different combinations through an echo box until the track runs out of steam. From here, the album goes off the deep end. "Eos Blushing" is stripped to a hand drum and the murky, unidentifiable drones that characterize endless rounds of tape manipulation, and "Hypnogogic" loses rhythm altogether, becoming what dark ambient might sound like if it were more inclined to soundtrack movies about aliens than movies about the occult. The album's epic, 11-minute closer, "Samsara", is almost a test of endurance, but becomes rewarding thanks to the fact that Zentropia's smoothly evolving primordial soundscape never stays in the same place for long and never repeats itself.
Fables of the Celestial Night may not be for the faint of heart, but that doesn't mean it's self-consciously dark, either. Fans of any kind of music described by the word "death" might not find what they're looking for, but listeners who don't wear all black all the time and are willing to challenge themselves, take heart -- Fables of the Celestial Night is dark ambient for everyone but the goth set.
- Matt Pierce
Review from Starvox 3/16/04
Zentropia - Fables of the Celestial Night
Zentropia's new foray into ambient dub will no doubt anger the Federation of International Ambient Artists (FIAA for short, pronounced, "people who make noises and call it music"), because Zentropia actually bothers to make its ambience musical, interesting, and fully worth your time. I'm not set against ambient music as a genre or anything, but a lot of it is so unmusical and sparse that you're essentially paying to listen to the barely audible scrape of tumbleweed rolling lazily across pavement. That kind of music lacks atmosphere, or feeling, or, well... music. Zentropia have stepped in to show us how it's done, though they will have to watch out for one of the FIAA's infamous sanctions.
Fables of the Celestial Night explores a myriad of interesting soundscapes via distorted guitar and bass, subtle keyboards, well-placed and well-timed noises of all varieties, and most importantly, interesting percussion. This is not to say that Zentropia maintains a regular beat throughout the music, but there is plentiful and varied percussion present to give the listener something to hold on to.
And holdidng on is more important than you may think - the soundscapes on this CD are barren, desolate, and often frightening. You'll feel lost a million miles away from home, thrust into some kind of Lynchian non-place, or cast into space unsupplied and alone, surviving only by tracking the noise that surrounds you: ambient washes of undecipherable sound, jazz-like echoes of distant melodies, foreboding but mercifully familiar percussion, and distortions of an unexplainable nature.
I'm compelled to warn you, dear reader, that not a lot of people enjoy ambient music to begin with. And while Zentropia's ambient dub is quality enough to warrant your attention whether you're an ambient fan or not, do be aware that most people still won't want to listen to 44 minutes of what is popularly termed "just a bunch of noise." Zentropia is like the catchy side of experimental, though, which is to say, it's not catchy in the least, but it's more listenable than a sample of one water drop splashing against a tile floor in four-minute intervals. If you are into experimental or are looking to branch out, add Zentropia to your list of things to listen to. Do it quick! There's no telling when the FIAA might strike.

- Eric Rasmussen
Review from KindaMuzik 11/20/03
Zentropia - Fables of the Celestial Night
Met hun vorige cd Zero Mass Calibration wist Zentropia te verassen met donkere psychedelische ambient met dub invloeden. Fables of the Celestial Night is in principe meer van hetzelfde, maar dat hoeft niet altijd slecht te zijn.
Deze plaat is een aanrader voor mensen die van donkere, meeslepende en organisch klinkende ambient houden. Er zitten diepe dub bassen in de muziek, zoals in de nummers 'Kali Mist' en 'Dream Destroyer', waardoor de muziek soms doet denken aan oude Scorn platen.
De muziek van Zentropia brengt de luisteraar in een sluimer toestand door de trage hypnotiserende geluiden en ritmes. Dit is echter geen gezellige plaat om even op te zetten, maar een cd die vraagt om echt beluisterd te worden. Wie de tijd neemt om nummer als 'Hypnogogic' en 'Samsara' tot zich te nemen loopt kans deze werkelijkheid tijdelijk te ontstijgen.
Fables of the Celestial Nightis een geweldige, soms angstaanjagende, psychedelische ervaring.
tekst: Martijn van Gessel
Review from www.DubFlash 11/7/03
Zentropia - Fables of the Celestial Night
Rating: 4 Stars
Result: The dark side of Dub.
Review date: 2003-10-26

Zentropia, a duo from California, USA, is known for very dark adventures in the name of dub. Besides that I like steppers I am also a fan or spherical music or weird instrumental music which sounds like exploring your inner self if you can imagine what I mean.
"Fables Of The Celestial Night" is such a trip. A soundtrack for a lost soul in a dark world. Sometimes I feel the same like this music sounds. ;-) Ambience is the word which describes this music the best, I guess. And you'll find a lot of ambience here, actually. If you should have to paint a picture fitting to the music, I think the result would look like the album cover (just to give you an impression).
Did you ever wonder what it would sound like if you would walk for example on the Moon or on some distant planet. Yeah, I know, there would most likely be no sound. But in my imagination, there are spacy, floating sounds. Bubbling noises, echoed winds, flutey, spherical melody fragments. Just like on this album.
If you're into meditation or if you are - just like me - able to drift away to some other word with the help of music (and without drugs actually!), then you should really have this record in your collection. Give yourself a 45 minutes Zentropia trip and nothing will be like it seemed before. Well, at least in somehow. ;-)
Just in case, my review sounded interesting for you. Check www.zentropia.com for more infos.
P. S. I forgot to mention: There are also two deep stepper tracks on this record. So, a combination between my two favourite music styles. Ace! :-)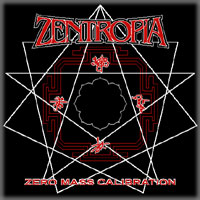 Zero Mass Calibration Reviews
Review from Aiding & Abetting
Zentropia - Zero Mass Calibration
If you like your experimental electronic fare on the spacey, yet rhythmic, side, Zentropia should do nicely. This disc is chock full of some of the finest construction I've heard in some time.
Edgy, but not really out there. And that's okay. If you're gonna spin a few new ideas, it doesn't hurt to put them in the context of vague normality. And so while there are lots of side trips to unknown regions, the songs themselves are still fairly easily accessible by the masses.
I keep getting Pigface flashes, but this stuff really isn't all that industrial. It's more along the lines of the post-Skinny Puppy project Download. Plenty of noise, but the bass and drum machines still keep time.
There are moments where it pays to let go, and experienced sonic drifters will appreciate the final two tracks here for those very reasons. The disc as a whole is chock full of creativity, and it's displayed in a most attractive package. Intriguing and fun, two descriptions that generally don't go together.
Review from ADD Reviews 10/2002
Zentropia - Zero Mass Calibration
A haunting blend of sweeping cinematic soundscapes, low-end dub elements, and Bitches Brew-esque fusion. Thick, heavy stuff.
Rating: 4 1/2 stars
reviewed by laze
Review from Kinda Muzik
Zentropia - Zero Mass Calibration
Zentropia is een ambient/spacey (rock) gezelschap dat na experimenten met onder andere avant-garde rock en trip hop op vorige platen nu hun geluid doorspekt hebben met een dub geluid (denk aan Scorn). Zero Mass Calibration bestaat uit vier nummers die samen een half uur durende soundtrack vormen om bij weg te dromen. De beelden die de muziek oproept zijn die van verlaten plekken zoals natuurgebieden (vlak voordat het gaat stormen) en steden (bij invallende duisternis). Zentropia werkt op deze plaat met drum & bass (dus drum/percussie en basgitaar), zwaar vervormde gitaren en allerlei incidentele geluiden zoals een atonaal piano riedeltje en vage stemmen. De nummers zijn traag en evolueren langzaam waardoor er echte ambientmuziek ontstaat, geluidstapijten dus. Zentropia maakt stonerrock zonder rock, wat er overblijft is spacey en donkere psychedelische omgevingsmuziek. Deze muziek kan het best achterover hangend geconsumeerd worden vanwege het wegdroom gehalte. Zentropia is er wel in geslaagd een spannend geheel van deze E.P. te maken, dit komt vooral doordat de nummers goed zijn opgebouwd en op de juiste momenten er iets gebeurd in de muziek. Feit blijft dat dit soort muziek vooral voor de liefhebber van het genre is. Zero Mass Calibration is geen plaat die je even voor de gezelligheid opzet.
- Martijn van Gessel
Translated from Kinda Muzik:
Zentropia is an ambient/spacey (rock) group, that have drenched their sound with a dub sound (think of Scorn), after experimenting with amongst others avant-garde rock and trip hop on previous albums. Zero Mass Calibration exists of four numbers that together form a half-hour soundtrack to dream away on. The images that the music brings up are those of desolated places like nature reserves (just before it starts storming) and cities (at dusk). Zentropia works on this record with drum & bass (so drums/percussion and bass guitar), heavily distorted guitars and all sorts of incidental sounds, like an atonal piano line and vague voices. The numbers are slow and evolve slowly as a result of which real ambient music is created, tapestries of sound so to say. Zentropia makes stonerrock without rock, and what's left is spacey and dark psychedelic ambient music. This music can be best consumed leaning backwards because of the high dream-away level. Zentropia has however succeeded in making an exciting whole of this E.P., which is especially because the songs were built well and things happen at the right moments in the music. Fact is however that this type of music is especially for lovers of this genre. Zero Mass Calibration is not a record that you would put on just for easy comfort.
- Martijn van Gessel (Martijn de Jong translator)
Review from Earpollution.com
Zentropia - Zero Mass Calibration
Bassist and percussionist Darcy Rowley says that Zero Mass Calibration is "music to melt your mind" and Zentropia's recipe is to stir, shake and bake for nearly 30 minutes. Built on a healthy foundation of dub echo and an earnest love for the work done by Lee "Scratch" Perry and King Tubby, Zentropia makes deep space dub ambient with just a bit of random quasar and pulsar noise thrown in. Think Bill Laswell and Muslimgauze smoking ganja and listening to lots and lots of early Pink Floyd before letting the tape run.
I've got to mention track names because they're just part of the heavy cream that Zentropia slathers onto your quivering brain: "The Waves May Bounce Many Times," "Systematic Method of Studying the Squares," "Veil of Perpetually Shifting Illusion," and "Spatial Exploration in the 6th Dimension." It's like Mick Harris channeling Timothy Leary. I'm sure when Zentropia does a live show, the neighbors are warned a week in advance so they can put earthquake tape under all their breakables.
Big points on packaging too. The CD comes in a clear plastic case that opens like a yin/yang collapsing on itself. It's all very hermetic and space age; you can almost hear the Star Trek door noise when you slide back the top piece. The seal is probably air-tight enough that they could ship out CDs with a haze of opium smoke trapped inside and collectors would stack up copies for eventual eBay auction. "Zentropia's Zero Mass Calibration EP. Sealed. First hit still intact."
Rowley and guitarist/producer Mark Bray have been shaking speaker stacks for over a decade as Zentropia and Zero Mass Calibration is a four-track warm-up EP (they have a full release planned for later this year). Zero Mass Calibration is like a first date: you and they are just getting to know one another and, sure, there is a little grandstanding and showing off, but you come away from the evening with an understanding of one another. You know their influences, you know that you shouldn't take them to any gallery with delicate objects on the shelves, you know that mind expansion and deep inner/outer space navel gazing isn't out of the question. And, ultimately, you know that Zentropia isn't afraid to rattle your noodle. If, like me, you don't mind that sort of thing, then more hanging out can be arranged. Nice.
-Mark Teppo
[ 02.03.2003 ]
Review from DubFlash.com
Rating: 3 stars
Result: Even darker than Spectre!
Review date: 2003-04-24
From the beautiful town of Berkely in the United States I received an even more beautiful promo pack from Zentropia, a 2-(wo)man band which I knew so far from MP3.com. The band exists since 1994 and released several records so far: "Beyond The Temporal Zone Of Ambient Morphing" (!), "Zentropia II", "Dezirotom" and "Kinesthetic".
Their new CD EP "Zero Mass Calibration" is maybe the darkest record I ever heard. Four songs full of flying delays, reverbs and echos all around as if all tracks are thrown through the mangling machine or something. ;-) Describing their style is simply not possible. They themselves call it "mind-altering space rock with dub infected drum & bass". Well, I guess this is what comes the closest.
The songs are very experimental, sometimes even losing the musical context and only becoming an atmospheric exploration of sounds and effects. I say Spectre or Teledubgnosis are nothing against this. This is so dark that you need a light to listen to this music (woah, how lyrically written).
If you're into space-excursions and mind-altering music experiences, you should contact Zentropia and get a copy: www.zentropia.com